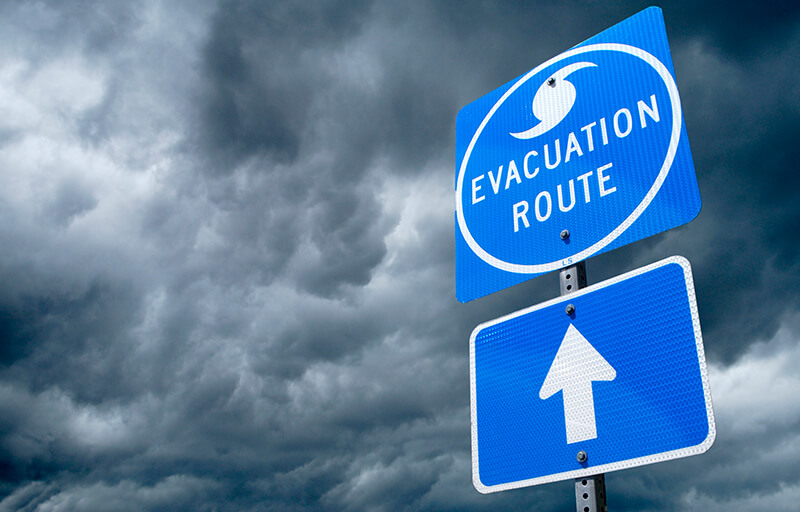 Hurricane season officially runs from June 1 to November 30. But for much of the east coast and the gulf states, the month of September is a time of nervous watching and waiting.
Be Prepared
There's plenty of information available on how to prepare for a hurricane. This includes determining if you're in an evacuation area, and planning where you'll go and what to take with you. This includes essential health-related items, such as any medications.
If Told to Evacuate
Evacuation is never fun, but it's essential to go if local authorities tell you to do so.
Plan for Your Pets – If you have pets, find out where the nearest pet-friendly shelter is and plan to check in when it opens – don't wait until the last minute. They can get filled!
Determine Your Route – Main roads will be crowded, but that's where you'll find gas and food. You may be able to plan a route that includes back roads and bigger highways so that you can travel more efficiently.
Make Reservations – You may want to book a hotel in advance, preferably one with a generator so you don't end up sitting in the dark, sweating.
If It's Safe to Stay
Get your prep work done as soon as possible.
Stock up on non-perishable emergency supplies ASAP
Fill your important prescriptions if you're low on medications
Place your important papers in a waterproof bag and have it handy in case you end up leaving
Stash any yard items that could get blown around, and trim loose branches from trees
Use storm shutters or board up the windows – taping windows is dangerous
Fill your car with gas and withdraw cash from the ATM
Fully charge your cellphone and other devices
If you cannot do these things yourself, contact a community helpline, a local senior citizens center if appropriate, or ask your neighbors for help. If you rent, check your lease to see if you are responsible for boarding up windows, installing storm shelters and other property protection needs.
Your Health Without Air Conditioning
Living without air conditioning due to a loss of power can be challenging. If you or a family member has breathing, cardiac or other health issues, consider getting a generator that can power a fan or small AC. The time to purchase a generator is well before a storm is brewing – they sell out fast.
Need Medical Help?
Chances are local doctors and hospitals may not be accessible, except for emergencies. And if you evacuated, you may not know who to call. A telemedicine plan is a great way to get the assistance you need quickly, whether you stayed at home or evacuated.
Stay In-The-Know
Tune-into a local radio station or listen to NOAA Weather Radio for critical information from the National Weather Service (NWS). Apps may also be available and provide updates, if you have a way to charge your phone.
And remember, your things can be replaced but you and your family – and your wellbeing – cannot.